| | | | | |
| --- | --- | --- | --- | --- |
| | | | | |
| | | | | |
| | | | | |
Homepage:

Die Voet van Afrika Marathon is celebrating its 40th event, 13 October 2018 The Marathon enables athletes to unleash their energy and overcome obsticales of Die Voet van Afrika marathon.

Athletes will discover a thrust within themselves that enables them to look at their own living environments with new perspective and to deal with their lives with great conviction and resounding success. In doing so they empower many other people.

Die Voet van Afrika Marathon is a test of mental and physical endurance, it is something different.

The route is unique through farming areas, gravel road and a jeep track across the mountain with fynbos views

and the last stretch of Die Voet van Africa maraton from Napier on tar road to Bredasdorp Sport ground.

The intention of Die Voet van Afrika Marathon is essentially to enable people to unleash their energies to determine their strengths over their own perceived limitations versus elements of nature. Die Voet van Afrika marathon is not only a major annual sport event but further more acting ongoing facilitator through out the year investing in our youth in rural communities development, through skills and exposure to diversity and groth opportunities. Furthermore Die Voet van Afrika marathon is part of marketing and tourism destination via this anual multi sport event that far exeeds the percieved perception

42.2km | 6h00 | Elim Road

21.1km | 7h30 | Grashoek

PLEASE READ SPECIAL INSTRUCTIONS - ONLINE ENTRY FORM (click here)

10km | 8h00 | Bredasdorp Police Station

ALL RACES FINISH AT BREDASDORP SPORT GROUND

Register for Die Voet van Africa - Click Here

Remember to like Die Voet van Afrika Facebook Page

Die Voet van Afrika Marathon is still the toughest race with the warmest heart!
UPCOMING EVENTS
Click on an event to find out how to enter.


42.2 MARATHON

2.1 HALF MARATHON

10KM RUN/WALK

4KM FUN RUN
In 1977, the Bredasdorp Athletics Club was established, and in 1978 Mr. Eps Joubert Chairperson of the Bredasdorp Athletics Club have a passion for running and a healthy lifestyle.
From there the idea evolved of a marathon in Bredasdorp. The marathon was unique, because it is the southernmost in Africa and the beautiful routes with fynbos and other sceneries. In an article from 27 October 1978 some of the athlete feedback were as follow: "tough, challenging and a combination of marathon and a trail run. You definitely have something that will grow in a big marathon."
The first marathon held in 1978 tested the talent and endurance of South Africa's road running elite. Since ex-Matie, Stephan Donald won the first Voet van Afrika Marathon in 1978, competing against 169 entries, in a time of 2:43:20 a string of South Africa's best talent have competed in this event.
Over the years the marathon was won by notable long-distance runners such as Johannes Thobejane, Gabashane Rakabaele, Ben Choeu, Siphiwe Gqele, Elias Stemmer, Olmpic marathon champion Josiah Thugwane, Michael Scout and Lindile Tokota. International athletes, who triumphed at the Voet van Afrika Marathon, include Vladimir Kotov, Jaroslav Janici and Charl Mattheus.
Whilst only men participated in the marathon in 1978, women ran in a half marathon. The first winner was Me. Thelma Rossouw in a time of 1:40:29.
In 1980, the brilliant Elana Meyer won the event, but was not officially crowned because she was too young to participate. Women who vectored in the half marathon include Liz Eglington, Noo Scales, Frith van der Merwe, Grace De'Oliveira and Marie Hill. The half marathon was opened for men in 2002.
In 1998, a 10km-run was added to the marathon programme for the not so experienced runners. Whilst recreational runners participated in the world renowned 4km "Toontjie" fun-run on the Friday evening before the marathon, making the Voet van Afrika Marathon a keenly anticipated event for the whole family!
Celebrating our 40th event in 2018 we are still the toughest marathon with the warmest heart.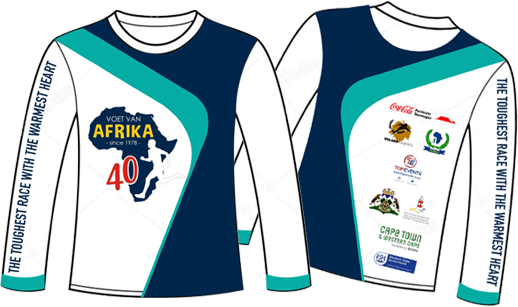 THE OFFICIAL SHIRT!
Sizes are as follows:
S 51cm
M 53cm
L 56cm
XL 60cm
XXL 64cm